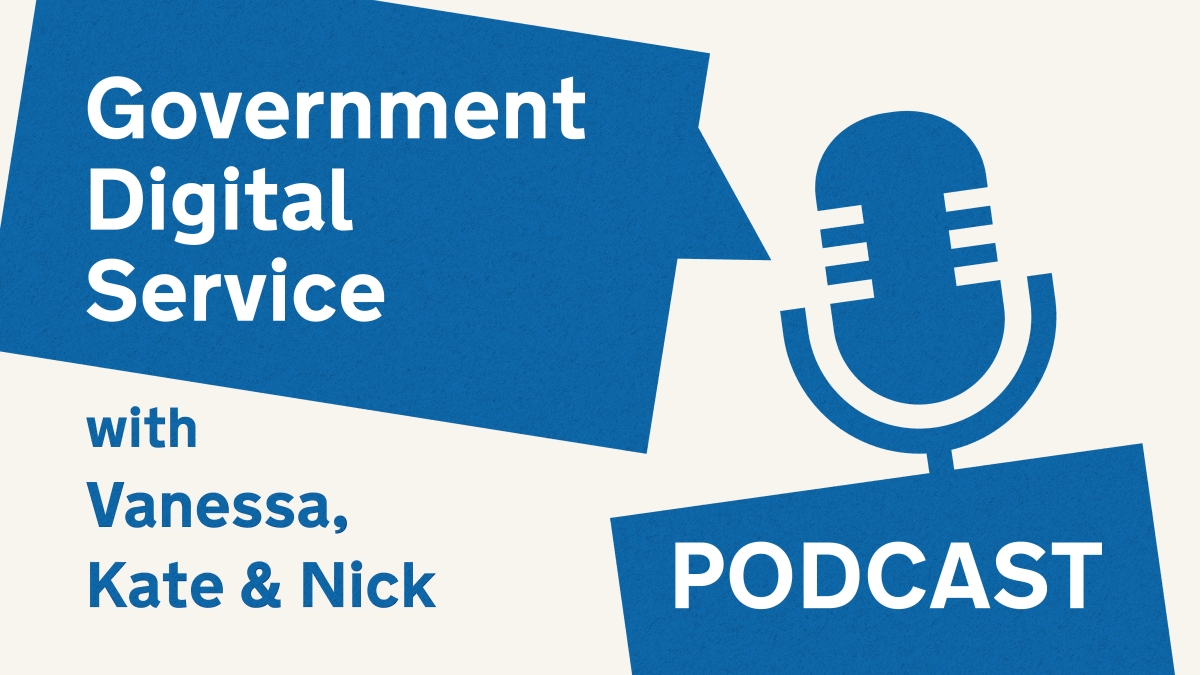 We hear from DWP, Defra, and MHCLG about their role in the cross-government response to help clinically vulnerable people during coronavirus.
The transcript for the episode follows:
-------------
Vanessa Schneider:
Hello and welcome to the Government Digital Service podcast. My name is Vanessa Schneider and I am Senior Channels and Community Manager at GDS. Today we will be talking about the Clinically Extremely Vulnerable People Service and we will be joined by several guests.
You'll be hearing from Sally Benson from the Department of Work and Pensions [DWP], Martin Woolhead from the Department for Environment, Food and Rural Affairs [DEFRA], Kate Nicholls from the Ministry of Housing, Communities and Local Government [MHCLG], and Nick Tait from GDS. As you can tell by this long list of participants, the Clinically Extremely Vulnerable People Service involved a lot of people working for a lot of departments - it was truly a cross-government effort. 
But you might not be clear on what it is. In March 2020 as a critical response to the developing COVID-19 pandemic, GDS rapidly built the Clinically Extremely Vulnerable People Service, also known as VPS, to provide support for clinically extremely vulnerable people in England, who had been advised to shield. The service was stood up over one weekend and then continuously iterated to support emerging policy and user needs.
The service enables clinically extremely vulnerable people to register their personal details and support needs, which are securely stored, validated against NHS shielded patient lists for eligibility and securely transferred to frontline service providers. During the period of national shielding from 23 March to 30 July, that is wave one of shielding, the Vulnerable People Service facilitated more than 4.2 million deliveries of essential supplies, support with basic health and care needs, as well as providing priority supermarket deliveries.
Joining me now are Kate Nicholls and Nick Tait. Thank you for being here. Would you mind introducing yourselves to the listeners? Let's start with Kate.
Kate Nicholls: 
Sure. Hi, I'm Kate Nicholls. I've been working in the Ministry of Housing, Communities and Local Government as part of the shielding programme, particularly on the Data Policy Team. So we work really closely with GDS on the kind of ongoing development of the Vulnerable People Service. 
Vanessa Schneider: 
Amazing. Thanks for joining us Kate. Nick, would you mind introducing yourself? 
Nick Tait: 
Absolutely. Hello everybody. My name is Nick Tait. I'm the Service Owner for the Clinically Extremely Vulnerable People Service here in GDS. And I've been with the programme since 5 May 2020.
Vanessa Schneider: 
Thank you. So both of you work for parts of government that have been instrumental in the development of the service. I was wondering how you came to join the teams that were working on this?
Nick Tait: 
It was pretty much born of necessity really and, and practicality. As you said in your introduction Vanessa, there were a, and there remain, a lot of interested parties, a lot of stakeholders, too much for any one department to do, given the, the nature of our response to the emergency that we found, we find ourselves in. And the 2, as far as GDS and MHCLG were concerned or are concerned, we're the 2 main players: we represent the policy and the delivery of said policy as far as the digital service goes. And furthermore, as the project has progressed, it's become expedient for us to get closer to both policy makers and, and people they know - so relationships with local authorities, for example, are best facilitated by colleagues at MHCLG. 
Vanessa Schneider: 
Kate, I know that you joined the MHCLG team working on this a little while into the VPS [Vulnerable People Service] being set up. How did you experience that?
Kate Nicholls: 
It was actually a really great time to join because all of those kind of key relationships between GDS and MHCLG had already been established. And when I joined the team, it already really had that kind of "one team" feel. So I-I'd come from a completely different job elsewhere in government policy. And I came here and it was just, yeah, this kind of efficient machine [laughs] that was just like achieving things every single day. So, yeah, it was, it was a great kind of feeling joining in with that.
Vanessa Schneider: 
Amazing. Both of you touch on relationships being established, being really valuable. Do you think you've experienced anything on this scale where you've had to tap in so many departments working on the same project before? Or do you reckon that this is, and I dare use the dreaded word, unprecedented?
Nick Tait: 
M-my experience of a civil servant, there has been nothing quite like this. And for me, the fact--sure, I've worked on other programmes where there are perhaps as many stakeholders, but not at this pace. We have excellent governance practises in, processes in place. But they happen at 2 weekly cycles. But you know, at-at the working level of getting the job done then to really hone in on where those key relationships are, that's something that we have had to do in order to respond at scale. And, and I should add that because there are so many stakeholders, we have Engagement Leads on the project whose main job is to consult with local authorities or with DWP or with the food and medicine supplies and so on and so forth. So it-it multiplies out. But yeah, nothing quite like this before. I think it's fair to say.
Kate Nicholls: 
Completely agree with Nick. So I've worked on teams in the Civil Service before where there's been, you know, a degree of close working with departments. But I don't think the kind of level that we've got to where, you know, you could just pick up the phone and speak to anyone on the GDS side if you're in MHCLG and, and vice versa. And it's just kind of, it's just right there at your fingertips. I think that's something I've never quite experienced before. 
Vanessa Schneider: 
I'm, I'm really glad to hear that went [laughs] well then.What was it like working with colleagues in departments like Department for Health and Social Care [DHSC] and external organisations like the NHS, who may be structured differently because of their work being so focused directly on the public?
Kate Nicholls: 
Sure. Yeah, so we've, we've worked really closely with NHS Digital (NHS D) because they sort of provide the shielded patient list, the SPL, which is basically the kind of the heart of the whole project. 
So while GDS have built this wonderful registration system, the people that that's targeted at are the people who are identified clinically by doctors and other clinicians to be extremely vulnerable. So we've had to kind of, similarly to how we've done with GDS, we had to build up really good working relationships with them, have sort of regular meetings, joint governance, and really kind of create that kind of "one team" feel to make sure that, that the right sort of data on those who are clinically extremely vulnerable is flowing through our system, is flowing to local authorities, you know, whilst also keeping patient records safe, secure and, and sort of operating legally. So that's kind of the challenge of what we've have to do with NHS D. And I think by building up really good working relationships with them that's how we've managed to kind of overcome that and, and use that data in a way that hasn't, you know, really happened with patient data ever before in the past.
Vanessa Schneider: 
Nick, was there anything that you could add about either the working relationship with DHSC or NHS Digital?
Nick Tait: 
So my, my experience around DHSC, the one that I'd sort of pinpoint is, is their involvement at the overall, overall programme steering board - where we have had regular contact with the Deputy Chief Medical Officer [DCMO]. And having, having senior stakeholders as, as embodied in DCMO to go, and there is all of this happening helps frame our work a little bit more, and then that comes down to, to working level, where it is the nuts and bolts of the all, all important shielded persons list, which, as Kate says, is, without which we'd be scrabbling about. 
Vanessa Schneider: 
So we actually talked to Martin Woolhead from DEFRA, which is the Department for Environment, Food and Rural Affairs, regarding the Vulnerable People Service. And he also shared with us a little bit about the working relationships between the departments. 
[CLIP STARTS]
Martin Woolhead: 
I'm Martin Woolhead. I'm Deputy Director for Food for the Vulnerable in DEFRA, Department for Environment, Food and Rural Affairs. My role essentially is overseeing policy and work on food for vulnerable people. So that ranges from work with food charities and local authorities to essentially get and look after food needs for vulnerable people. 
One of the things I think constantly cropped up throughout the process was that, for example, on what we did on food supply, MHCLG could also have done that, you know MHCLG as programme owners, and working on this across government and leading it, could also have essentially contracted with food suppliers to deliver the, the packages of essential supplies that were delivered. The reason it wasn't done in that way was simply because of those relationships and the urgency that we had. So because we had the existing relationships, DEFRA was able to kind of work specifically on that bit and get it done quickly.
So, so where DEFRA worked on food supply because of its existing relationships, other departments had relationships with others. So in regard to the supply of medical supplies so medicines and things, DHSC led on that element because they had the relationships. And so with MHCLG convening, they were able to kind of use the relationships that other departments had and kind of, you know, outsource those bits. And for me that's part of the reason why it was done so quickly. So with all of the urgency, we used existing relationships to get things done. 
From, I think, the first ask for, you know, essential supplies to help shielded people, to boxes of essential supplies starting to appear on doorsteps, took around 10 days. And from the announcement of shielding, so when shielding was first announced publicly, to people first receiving their essential supplies was 5 days. And you know, in the context of panic buying across the country, in the context of the global pandemic, the fact that we were able to organise direct doorstep, essential packages to any doorstep in England, and, and most services don't offer that. You know, most supermarkets won't offer doorstep delivery to every address in England, in just 5 days, I think was an incredible achievement.
[CLIP ENDS]
Kate Nicholls: 
Yeah, we already had people that were experts in food supplies that knew the supermarkets. We already had a Government Digital Service with like expert content providers, people who are experts in, in data protection. We already had MHCLG, who have, like, links into councils and a really good understanding of what councils do on the ground and deliver. And also everybody in each of those departments already knew that we already have those people in the other departments. And you know I've missed people: DWP, who, you know, know everything about [laughs] how to set up an outbound call centre. So I guess it's kind of, it's a really positive story about the kind of existing connectivity between departments and different levels of quite, sort of deep expertise in different areas that we were able to draw upon pretty quickly.
Nick Tait: 
Yeah, I think, I think I'd echo that. I mean no individual department needed to reinvent any wheels really. The, the programme trusted each department to, to focus on its, its domain area and to do that well. Which, which happened. The, the challenge wasn't sort of reinventing the wheel, it was to build the new one. And the new one was around the data sharing, was around actually gluing a, a relatively disparate bunch of people within, within government to work together. And once people sort of trusted that 'Department X' would take care of their stuff and 'Department Y' would do theirs, then it was just the governance and the working that needed to be worked out. Which sounds dismissive. It isn't at all. There was, there was hard work to do there. But we didn't sort of go, "'oh, well I've, I've done food policy' says non-food policy department, 'so I'll get involved with that.'" There was, there was no time for that sort of shenanigans, and people were focussed on what they knew best. And that was the, the real strength. 
Vanessa Schneider: 
I was going to say, in a very cheesy way, everybody brought their own wheels, and it turns out they were cogs that all worked together, and it made a very smooth machine. [laughs]
Nick Tait: 
Indeed. Indeed. [laughs] 
Vanessa Schneider: 
So clearly relationships are a key part to this having worked so well, but are there, are there other drivers that you can think of that supported the development of the service?
Nick Tait: 
I guess..so like the-the key driver, as in everything we do, is meeting the needs of our users. That's you know, primary directive: users first. And I think what we've learnt over the project is like, when everything was stood up in April, May 2020, the primary needs to be met were those of the clinically extremely vulnerable population. And, and as we became one team, we, we began to expand or, or more fully understand who our users were, how best are we serving service providers, whether it was wholesalers delivering food boxes, whether it was local authority, civil servants at the front line, who are in fact proxies, or can act as proxies, for CEV [clinically extremely vulnerable] users and use the system themselves and have their own requirements in their own local authorities.
And then sort of a, a third section of, of our users would be our stakeholders in terms of those who consume and then act upon the data that is presented via the dashboards that, that the Management, Information and Data Analytics teams provide. So I think, you know, the key driver has, has always been and will remain our users and that's sort of enshrined in how the service has been built. But what has changed, and, and continues to be iterated upon, is, is how we understand who our user population is and, and how best to serve that. 
Vanessa Schneider: 
Do you think that the service benefited from products such as GOV.UK Notify already being in place? But also, for instance, the data lists for the shielded people - because that data already existed, was that something that made your lives easier?
Nick Tait: 
Notify, yes, I can't, I don't, I don't want to entertain thinking about how things might have been had we not had a readily accessible solution to communicate in as many channels as possible, whether it's a physical letter, whether it was an email or a text message, which would have happened via Notify. And, and don't forget that, either t-that DWP colleagues had o-outward bound call centres. We also had our interactive voice recognition system that was part of the initial wave one service that allowed people to, to register - that was inbound only, but, but nonetheless. So having, having access to tools and technology that, that we could trust because they've been tried and tested before us, made, made our lives easier.
Vanessa Schneider: 
I was wondering as well: because the user was required to submit their details that were checked against that list provided by the NHS and DEFRA provided details to retailers under specific and secure conditions, I was wondering how the safety and security of user data was ensured and how was the data joined up to make sure the right people were giving the appropriate support?
Kate Nicholls: 
That was something that again is kind of, to use the, the much used word, unprecedented. So that was an area where we had to get all of the right people with the right legal expertise and data protection expertise - so with you know, the data protection leads across DEFRA, DWP, MHCLG, GDS, the Data Protection Officers - all together. They formed a kind of data governance oversight board. Whilst we you know, we were kind of under a lot of pressure to work really quickly and get data to, to you know supermarkets, to councils, et cetera as quickly as we could, we had a really kind of rigorous group of experts holding us [laughs] to account to make sure that we had the right data sharing agreements in place, the right MoUs [Memorandum of Understanding] and, and all of that kind of information governance documentation. So that was really appreciated, and it sort of goes back to the running theme of that cross-government working - if we hadn't been able to get all of those people in place and we just couldn't have made it work.
Vanessa Schneider: 
I believe there was a transfer tool as well. Could you tell me more about that perhaps? I believe it meant that you could select how people or which people could access what data if I got that right. 
Nick Tait:
So we-we use...for the cloud hosting service that we use for our data storage, ben-benefits from its own internal security reviews that they perform on the overall system. And then their secure storage solutions are compliant with our strict regulatory requirements. So in our case what this means, and this is where the, the data transfer tool comes in, is that all of our data is encrypted, both when we store it in the database and when we share it with whosoever we are sharing it with, whether it is a local authority or another government department.
And then at the same time, and talking of regulations, we've, we've established a sort of our own processes around the database. So if you think about GDPR and the principle of the 'right to be forgotten', that's, we have our own processes for this. And if, if our listener is interested, then they can, they can go to our service page and our, all of our privacy documentation is open and, and available there.
So like even for our teams or members of the engineering teams who have access to production, only those with security clearance can access them. It's not available to Tom, Dick or Harriet, so to speak. And we, we log and audit everything. So at any given time, who accessed which piece of data at one point, that information is always available to us. So, you know, we, we take personally identifiable information very, very seriously on this. 
Vanessa Schneider: 
It sounds like you're doing your due diligence, I hope the listeners are heartened by that.
Nick Tait: 
Yeah. [laughs]
Vanessa Schneider: 
So next I was wondering, obviously we hope that something like this never happens again. That's the whole point behind the unprecedented language of course. But I was wondering if at the very least, there are learnings that you can take away from this project and the collaboration that you've carried out as well as maybe what not to do?
Kate Nicholls: 
I guess the main, the main thing I've learnt as somebody who's a-a policy official, who's never worked on a digital project before, I think I've learnt something very valuable from colleagues in GDS about, about that user base development and continuous improvement, particularly in an environment where you're setting something up very, very quickly as an emergency response.
And I think the more, as we've gone along, the more we've consulted our users - and I'm particularly, from an MHCLG perspective, thinking about councils - and ask them you know, what they think and take in their feedback and expose ourselves to kind of their, their comments and their perspectives, the better the system has become. And I think that's definitely, I guess, a general learning for me. But also if, if I, if, you know, we were ever in a position to be doing something like this again, doing that kind of immediate, constant almost consultation with users would be my main learning from kind of a policy person from the digital world, because I know user base, [laughs] user base development is already a kind of a thing that, that is common across the development of digital platforms.
Vanessa Schneider: 
You're sounding like an ambassador for Agile and user-based research there. That's amazing. But I was also really keen on you identifying, sort of, users outside of the clinically extremely vulnerable people and the local authorities. Because obviously the, the service has now changed because it's a much more local approach to providing these services, isn't it?
Kate Nicholls: 
Yeah, definitely. I think there are, so both in wave one and wave two, on the ground in councils, the picture is a lot more complex. You know, our service talks about kind of basic support needs, but the kind of detailed assessment of each individual is happening at that council level, and, and the delivery of that support is happening across all sorts of organisations, voluntary organisations, NHS volunteer responders, charities, et cetera. And I think a-another kind of key, I guess key groups that we've tried to listen to are you know, groups like Age UK, all those voluntary groups that are actually on the ground doing these things. They're not direct users of our service, but kind of by proxy of, of being connected to the council, they are linked to the eventual kind of frontline service that our platform leads to.
Nick Tait: 
To echo Kate: having policy at a sort of a, a high level, have, having policy and delivery in the same room a-a-around the same virtual whiteboard makes for better service delivery. And I-I think that's the, you know, p-personally and then sort of to, to share more widely within GDS that that, for me, it feels like the only way that this can work. Because otherwise it, it will be a far more protracted process. So, I mean, we, we talk about closer working and collaboration and the tools that sort of facilitate all of this, but we, in my experience, we do that because it's true. And this, and this project is, is proof to me at least, and I, and I hope to our users that, that is the case.
So I think the other thing I, I'd reflect on over the time of the project was: at, at the very beginning, our, our, our overall governance was, was weighty. There was a lot of it. And over, over time as the working relationships have developed and the collaboration has developed and some of that governance has been more focussed on the bits that we're actually working on. So I think that's another reflection from me. 
And I, yeah, again we say it very sort of readily now, and, and we took it quite lightly to start with, but the whole "hashtag one team". Again, i-it's not a joke, it really is, it's the real deal for us and wi-without that, we, we wouldn't be, I think, having a happy conversation like this. And as you say, I hope we don't have to respond on this level before, but there is enough learning here to, well to make an, a really active and considered response quickly, rather than as fast as you can, which is kind of where we were to, to start with, back in 2020.
Vanessa Schneider: 
Of course. At the time, you know it was just about getting it stood up, wasn't it? 
So we did talk to a couple of your colleagues in other departments. And one of them was Sally Benson from the DWP, that's the Department for Work and Pensions. So we're just going to listen to something that Sally shared with us. 
[CLIP STARTS]
Sally Benson: 
My name is Sally Benson, and my day job before being involved on the National Shielding Helpline as part of the critically extremely vulnerable service is working for the Department for Work and Pensions. More specifically, I'm a Senior Operational Leader in the Child Maintenance Group.
I think when we actually bring it home, 2 people stick out in my mind in terms of people that we phoned. Samantha, a blind lady that had no, no friends or family, immediate support around her, wasn't on a, you know, a mobile telephone. But the National Shielding Helpline were able to get in contact with her and, and put her in touch with those people that were able to help her.
Another lady that we also spoke to was a lady called Carol. And it became apparent from the outset of the call that, that Carol was, was experiencing some, some health difficulties on the phone and was talking to us about how she was having trouble breathing. And actually, we had a process in place that enabled us to call the emergency services. Our call centre agents remained on the call talking to Carol, making sure that she was ok and staying with her until the emergency services actually arrived.
It turns out that Carol was actually suffering a heart attack whilst on the phone to us. And unfortunately, there were 1,400 people throughout the whole of the, of the shielding contact centre process that, that actually needed us to refer to the emergency services. And I think, you know, w-wherever you are and whatever part you played in the, in the national shielding service, whether it be, you know, the data side of it and, and enabling us to actually contact people like Carol in the first place, whether it be decision makers and policy makers that, that actually decided that people like Carol needed, needed our help and our attention, or whether or not you were part of the actual contact centre that, for Department of Work and Pensions. 
Everybody played a part in, in making sure that we genuinely supported and protected those most vulnerable. And I think we've got to keep Samantha and Carol at the forefront of our mind when, when we are truly understanding the difference that, that we made. And, and it's those, those things that really give that sense of pride, real sense of purpose, and, and how together working across government, we, we really do look after those most vulnerable in our society. And the National Shielding Service was a perfect example of, of that.
[CLIP ENDS]
Nick Tait: 
For the GDS teams, we are intimately connected on the user research level because our user research involves speaking directly with the clinically extremely vulnerable as well as our other user groups. And this is on one hand, very, very stressful for people; especially in the earlier days of the service when people were in dire straits for the need of basic care supplies. And that, that has an impact and an effect on, on the people who are conducting that research. And we have to take care to support and, and look after our own team members who are open to this.
It's a very present now-now validation of the work that you're doing. I think as civil servants we are all contributing to the enhancement, I hope, of the society within which we live, but to have that [finger snap] instant feedback or relatively instant feedback is very, very powerful indeed.
Kate Nicholls: 
Yeah, I'd agree with Nick on that point. I think you always, you know, as a civil servant, working on, kind of, policies that you hope will have an impact on the public. But often you might be waiting months or years to actually see that manifest - just because of, you know, how long policy development in normal times takes. But yeah, to be able to, kind of, immediately see how what you're doing is actually helping people in, in some small or big way is, is a really great thing about working on this. Even though it definitely comes with some of it's, kind of, pressure and stresses. 
Vanessa Schneider: 
I was wondering if you had any achievements that you wanted to call out specifically, any milestones, any, maybe shoutouts to colleagues that you wanted to praise publicly?
Nick Tait: 
So I think it's, it's...whilst I'm not a huge fan of milestones, there are certainly achievements that, that it serves us well to remember. So the service itself was stood up over a weekend, 4 days or thereabouts. And then for those registered users, essential supplies were arriving on doorsteps 10 days later. That's pretty amazing. And then over time in, in, in, from the March to the end of July 2020, just over 4 million deliveries of essential supplies were made. So you know this is real stuff happening. So I'm, I'm quietly proud of those things. And I think all of the teams genuinely have done the, the best they could with the tools they had at hand a-and with the information they had at the time, and we've taken time throughout the, the project, or the programme, to pause and to reflect and to ask ourselves: 'what can we do better?' 
And some, and some of that has been sort of like recognised formally. So in terms of shout outs, then I-I guess we'd give a shout out to David Dilley from GDS, who was very surprised on a personal level and nonetheless very, very happy to receive an excellence and leadership award at the, the Cabbies last week. So, these things are all good to have. And, and to work on a service that, that impacts people's lives pretty quickly is often enough.
Kate Nicholls: 
Yeah, again, I-I feel like specific milestones maybe aren't quite what the thing that makes me kind of the proudest of the, of working on the project. I think the kind of continuous professionalism and kind of, I guess thirst for improvement is what impresses me about working on this project. So obviously the beginning, you know there was a very clear emergency response and, and a lot of momentum [laughs] that kind of comes with that. But I think it's really impressive that even though that kind of initial phase is, you know, of emergency is, is past us now, there's still kind of that appetite to constantly, to constantly test [laughs] with the users, to constantly improve. We just, just last week, we kind of implemented some improvements to the data feeds based on local authority feedback. And I think it's really inspiring to see people who are so enthusiastic about, sort of, delivering not just something that's good enough and does the job, but something that is constantly getting better. 
Nick Tait: 
A-a really like serious achievement in terms of like the overall, sort of, easing of some of the pressure has been the overall relationship with, with local authorities. So we, we meet regularly, fortnightly at the moment. It used to be weekly with our, our local authority working group, which is made up of, unsurprisingly, members of local authorities from different parts of the country who have different experiences and, sort of, maturity of, of, of digital. And when we started there were a lot of, sort of, folded arms and like, 'what, what are we all doing here then?'
But that group of people has stayed relatively constant, has put the hours in, has, sort of, really risen to the challenge of collective working and collaborative working. And, and now, as Kate has just, sort of, evidenced, that group of people is co-designing the service. And, and that for me is an, is an achievement. But there's no, sort of, milestone because it's been continually being, being worked at and worked t-towards by, by everybody in that group. And, and again, like so many things, it, it hasn't been a particularly smooth ride, it's been a bit bumpy in places. And that's totally fine. But because, again as Kate said, everybody was kind and humble and professional about it and, and felt free to, to air any concerns that they had. And, and collectively that group is delivering, and that's just wonderful.
Kate Nicholls: 
Yeah, I definitely think we owe a lot to the kind of openness and, and I guess willingness to give us their time of local authorities. Obviously I would say that being from MHCLG. But you know, in, in so many different fora we have across the shielding directorate, the stakeholder engagement forum, where we get lots of valid feedback, we run kind of weekly surgery sessions with councils where we get so much kind of valuable insight into what it's actually like to use our service on the ground to deliver real stuff [laughs] to people. 
Yeah, as Nick said, we've got our invaluable local authority, working group. So, yeah, I think that's a really, really big part of any of the success that we can, we can claim to have had from the system comes from that, for sure.
Vanessa Schneider: 
Amazing. Yeah, it's, it's not always easy for these external parties who might not have been there from the beginning to work on this in a way that they might not be familiar with. Obviously, it's a very Agile approach with GDS, and that's been something that's been spreading around government. But it's not necessarily something that local government has had to work with yet. So it's, it's great that they're signing on and that they're really engaged with it as well.
Well [laughs] on that positive note - thank you so much to all of our guests for coming on today. You can listen to all the episodes of the Government Digital Service podcast on Apple Music, Spotify and all other major podcast platforms. And the transcripts are available on Podbean. Goodbye. 
Nick Tait: 
Goodbye.
Kate Nicholls: 
Goodbye.